"Another Flame" Album Release: 8th December 2018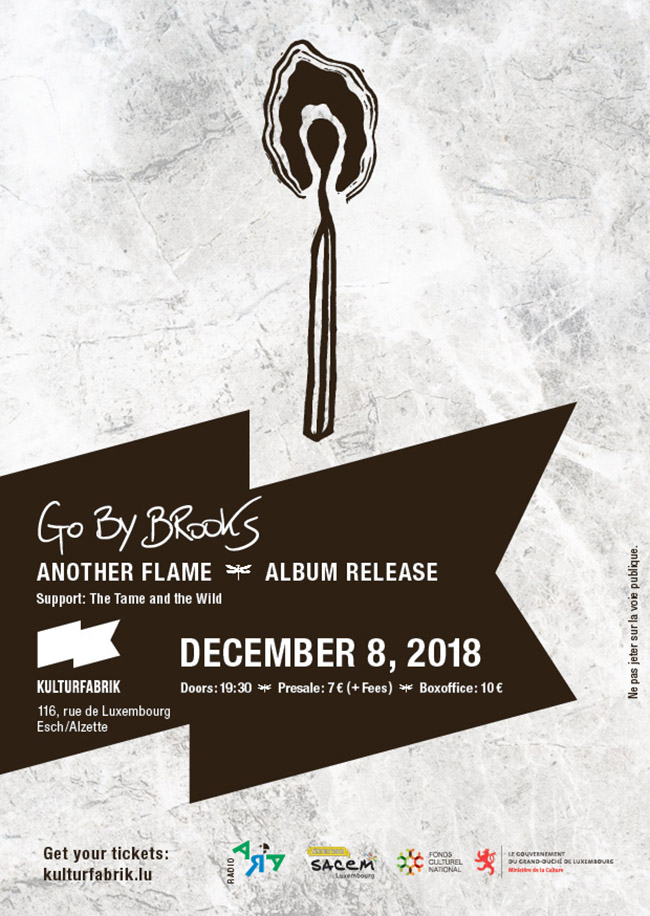 Formed in 2013 by Laetitia (vocals and guitar), 
Go By Brooks is a melancholic rock band composed of five members (Nicolas Palumbo, guitars, Sacha Heck, bass, Jérôme Moes, keys, Tom Roilgen, drums). The subtle harmonies and instrumental parts, along with Laetitia's darker lyrics have played a key role in the Luxembourgish band's style from the start.
After the release of their first EP Rivers in 2015 and Oceans in 2016, the band will finally release their first album in 2018. Another Flame, which has been recorded and mixed by Werner Pensaert at Linster Studios in summer 2017 and 2018, and mastered by Gert Van Hoof at Cochlea Audio Editing and Mastering contains ten new songs in line with previous projects. The subjects that are covered are the quest for identity, desire and commitment. The band remains faithful to melancholic rock and the instrumental parts add depth to the songs as 
usual.
So, Go By Brooks is a contrast between light and darkness, in honour of the poet who inspired the band's name, Leonard Cohen: There is a crack in everything, That's how the light gets in.
The band has played numerous concerts in Luxembourg and the greater region over the last few years.
The new, self-produced album will be launched on
Saturday, 8th December 2018 at Kulturfabrik in Esch-sur-Alzette
Doors will open at 7.30 pm. The first part of the show will be performed by The Tame And The Wild at 8.30 pm, before Go By Brooks will take the stage at 9.30 pm.
Get your tickets here:
http://kulturfabrik.lu/fr/programmation/details/event/go-by-brooks/
Admission tickets will be 7 € (plus fees) and 10 € at the box office. The album will be sold on site and available for download. Go By Brooks is currently preparing the Another Flame Tour. Tour dates will be announced in 2019.