15.6.2019
Fête de la Musique
Dudelange
21.6.2019
Schëfflenger Fest
Schifflange
6.7.2019
Rock um Bur
Bettange-sur-Mess
12.7.2019
Rock um Knuedler
Luxembourg
31.7.2019
Brasserie K116 (unplugged)
Esch-sur-Alzette
28.9.2019
TBA
---
PAST DATES:
15.3.2019
Springbreak, LuxExpo TheBox (CANCELLED due to sickness)
Luxembourg-Kirchberg (L)
10.1.2019
Casino 2000, Purple Lounge (unplugged)
Mondorf-les-Bains (L)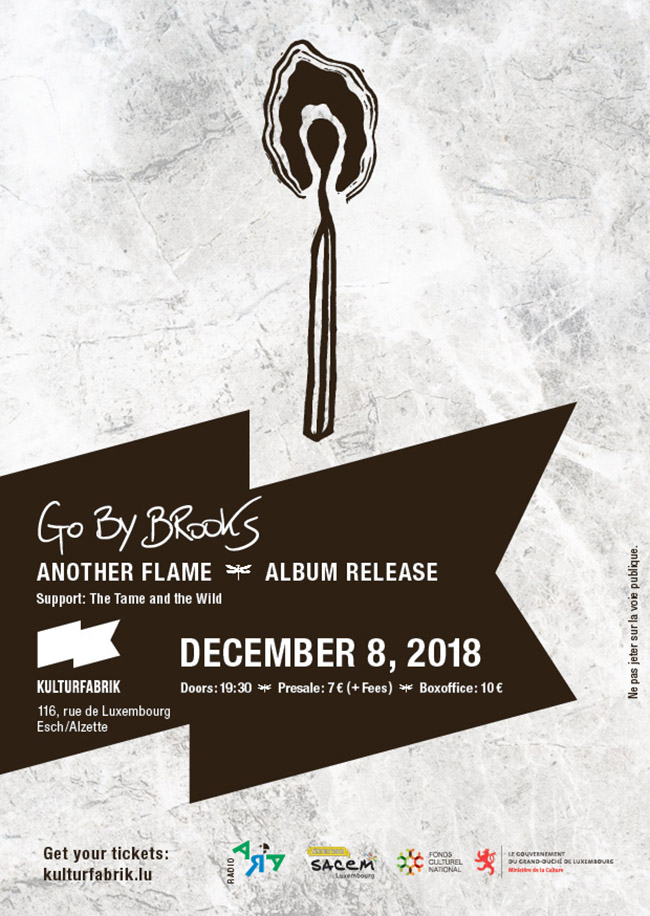 8.12.2018
CD Release Concert
Kufa, Esch-sur-Alzette (L)
Get your tickets here:
http://kulturfabrik.lu/fr/programmation/details/event/go-by-brooks/

14.7.2018
Musiczone Festival 2018
Bissen (L)
6.7.2018
Rock am Park
Hesperange (L)
25.7.2018
Brasserie K116 (unplugged)
Esch-sur-Alzette (L)
16.6.2018
Fête de la Musique
Bridel (L)
23.11.2017
Schräinerei (unplugged)
Differdange (L)
23.09.2017
W de Woustviller (F) – cancelled!
16.09.2017
Yalloh '17
Berdorf (L)

15.09.2017
Nordic Rock Festival
Vianden (L)
20.08.2017
Fête de la Mirabelle
Metz (F)
26.07.2017
Brasserie K116 (unplugged)
Esch-sur-Alzette (L)
25.06.2017 (17:00)
Altstadtfest
Trier (D)
24.06.2017 (18:30)
Schëfflénger Fest
Schifflange (L)
21.06.2017 (22:00)
Fête de la Musique
Steinfort (L)
17.06.2017 (16:30)
Saarklang Festival
Saarbrücken (D)
17.06.2017 (13:50)
Fête de la Musique
Dudelange (L)
16.06.2017 (23:00)
Fête de la musique
Luxembourg
25.05.2017
Schlassfest Suessem
Sanem (L)
11.02.2017
Listen to Haiti / Charity
Rockhal, Esch/Alzette (L)
FB-Event
28.01.2017
Inauguration Centre Culturel Syrkus
Roodt-sur-Syre (L)
FB-Event
12.11.2016
Wanterfeeling Sanem
Château de Sanem
FB-Event
5.11.2016 CANCELLED :-(
Support for "Le Magnétophone"
JuZ / Poststraße 5, Illingen (Saar)
FB-Event
13.10.2016
17.9.2016
"Oceans" CD Release Party
KUFA Esch-sur-Alzette
Click here for more infos & tickets and read our blogpost here.

17.7.2016
8.7.2016
Summerstage Festival
Parc Le'h, Dudelange
Event click here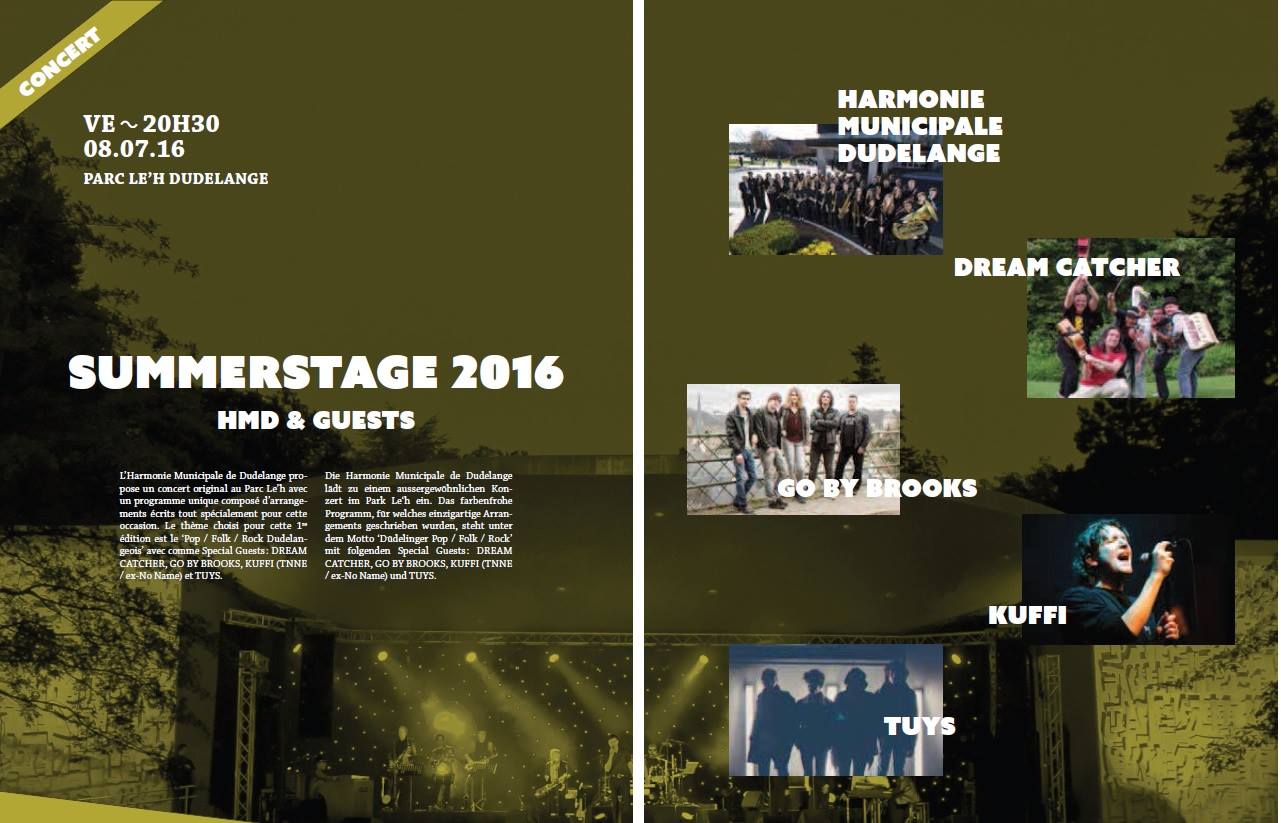 2.7.2016
Dikrich Live
Diekirch
21.6.2016
Fête de la Musique Kayl
Event click here
18.6.2016
Fête de la Musique
Bridel-Kopstal
9.6.2016
Acoustic Showcase (this one had to be postponed, was originally planned for 11th February 2016)
Schräinerei, Differdange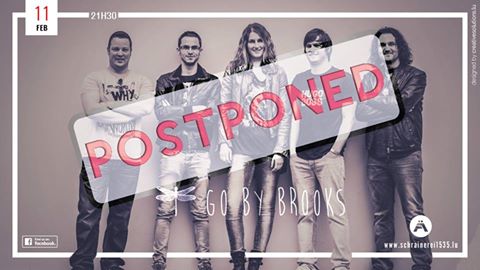 4.6.2016
Little Woodstock Festival
Ernzen

25.5.2016
Brasserie K116, Esch/Alzette
Unplugged Show
Event click here
15.5.2016
Festival Dolympiades
Limbourg (B)
Event click here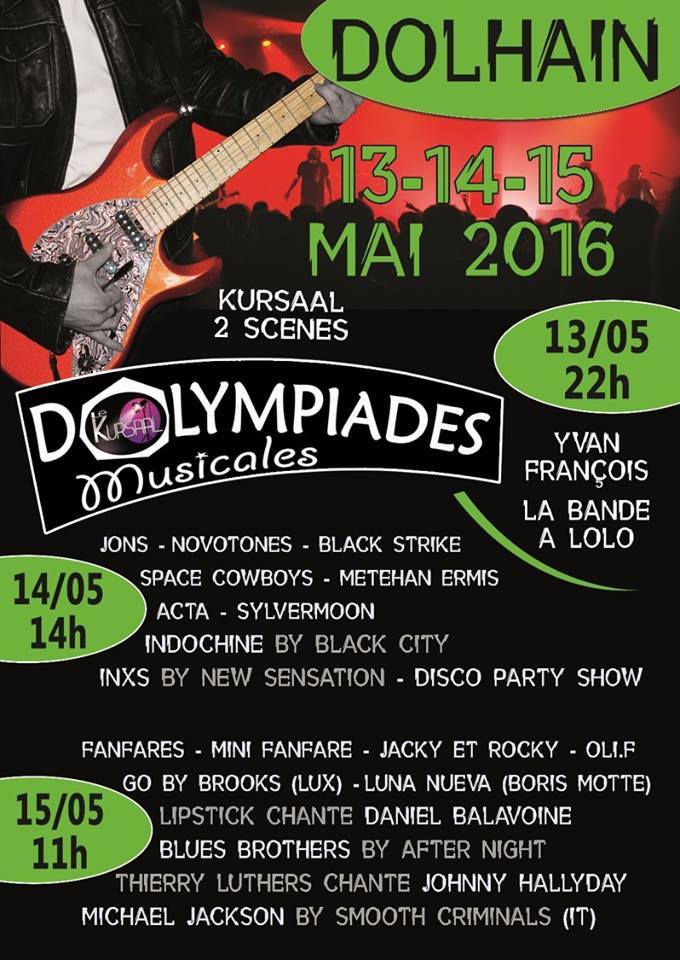 14.5.2016
Festival REM
Remelfing (F)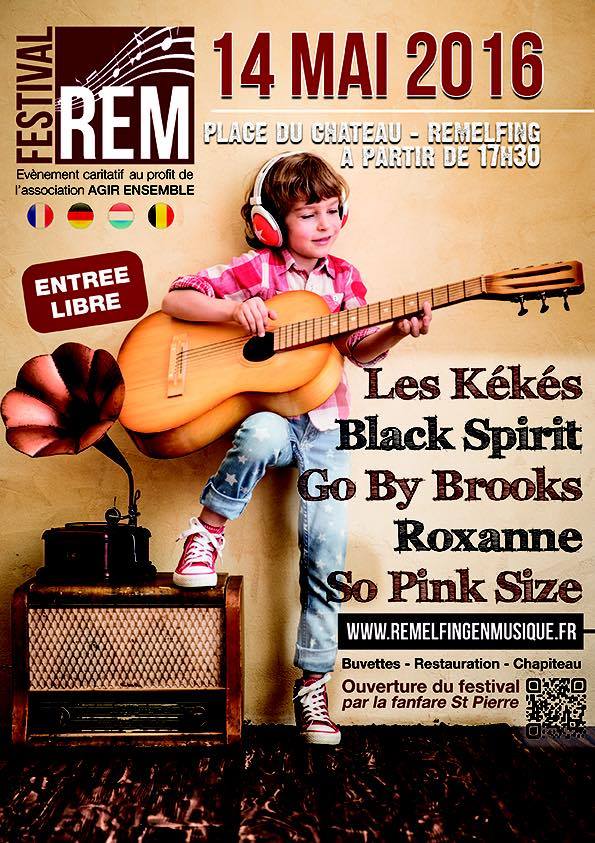 13.5.2016
Music City Tour
Entrepot Arlon (B)
13.2.2016
Acoustic Showcase
Musicstore «Face cachée, Metz (F)
Event click here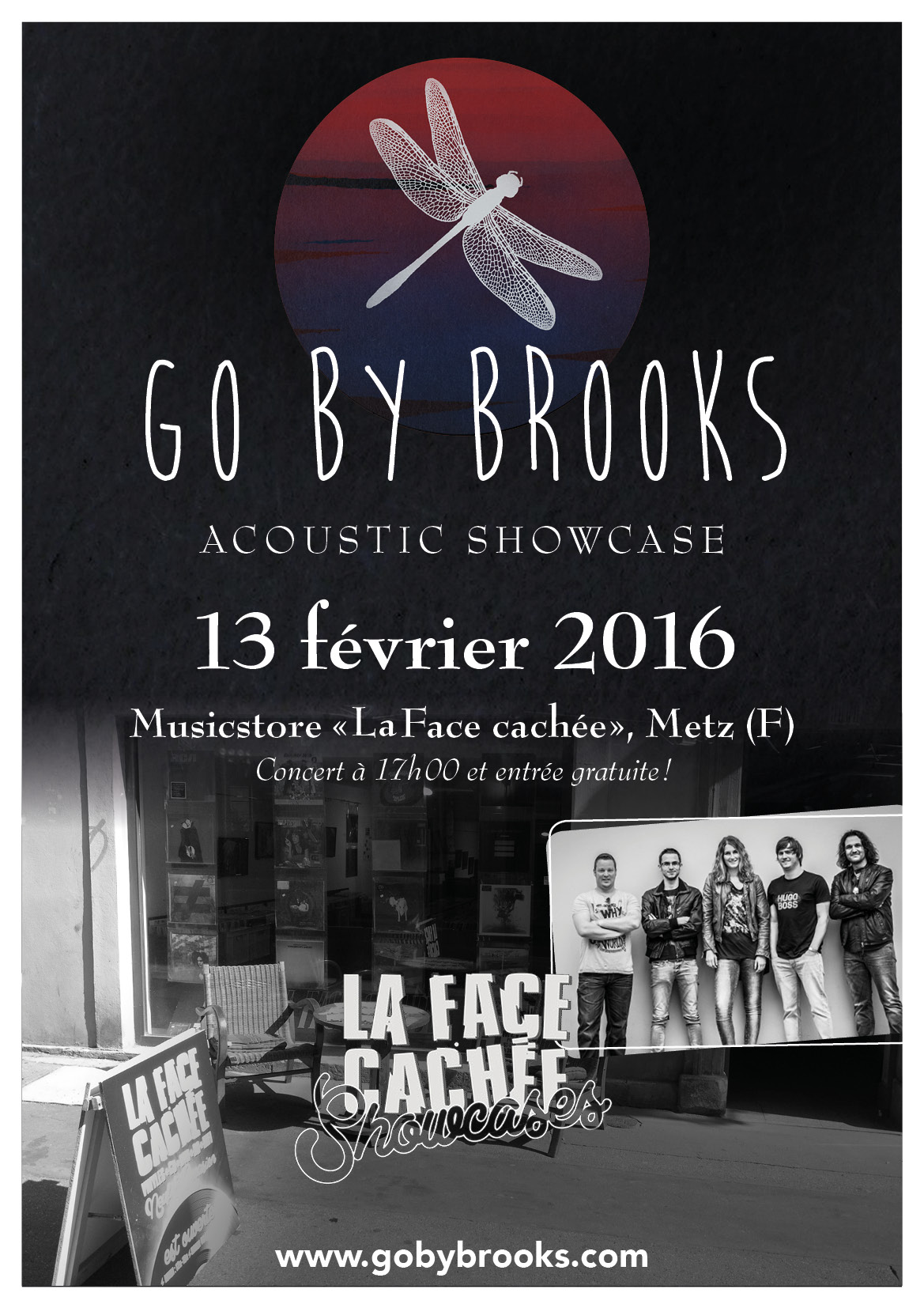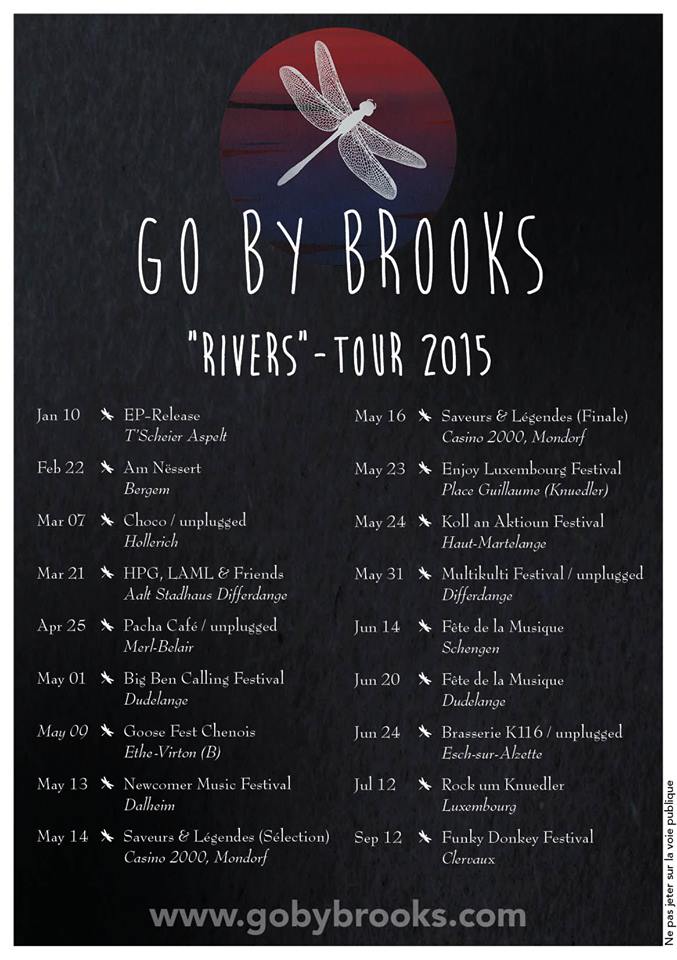 30.1.2016
Goose Fest Talent Finals (hors concours)
Salle «Echos du Ton», Ethe (B)
Event click here
21.1.2016
Purple Lounge
Casino 2000, Mondorf
12.12.2015
Nancy Web TV, Live Gig
5.12.2015
"Music City Tour 2015"
Rockbox, Clausen
26.11.2015
Support Gig for Little Eye
Purple Lounge Casino 2000, Mondorf
7.11.2015
Opener for Guy Noël Band Release Party
De Gudde Wëllen, Luxembourg
29.10.2015
Singer Songwriter Night (unplugged)
w/ Ron Sexsmith & Eric Martin (Mr. Big)
Op der Schmelz, Dudelange
08.10.2015
Slide Night (unplugged)
Rotondes Luxembourg
FB-Event
26.09.2015
Sharing Music in Sharing Space
Inauguration du nouveau centre à Bertrange
Infos here
12.09.2015
Funky Donkey Festival
Clervaux
Infos here
19.07.2015
Support for Christina Stürmer at Festival de Wiltz -> read our blogpost
14.07.2015
Bal Populaire de la Communauté Française au Luxembourg
18:30 – 19:00, Knuedler (Place Guillaume, Luxembourg)
12.07.2015
Rock um Knuedler, Stage Place Clairefontaine, Luxembourg
11.07.2015
Columbus stays Home, Stroossefestival Gaasperech
5.7.2015
Fondation Kriibskrank Kanner, Strassen
20.06.2015
Fête de la Musique, Planet Stage, Dudelange
24.06.2015
Brasserie K116, Esch-sur-Alzette
14.06.2015
Fête de la Musique, Schengen
31.05.2015
Unplugged @ Multikulti Festival, Differdange
24.05.2015
Koll an Aktioun Festival, Haut-Martelange
More infos: www.kollanaktioun.lu
23.05.2015
Enjoy Luxembourg Festival, Place Guillaume (Knuedler), 19:30
09.05.2015
Goose Fest Chenois, Ethe-Virton (Belgium)
More infos: http://www.goosefest.be/
13.05.2015
Newcomer Music Festival, Dalheim
14.05.2015
Festival Tremplin Saveurs & Légendes, Casino 2000 Mondorf
01.05.2015
Big Ben Calling Festival @ Café Big Ben (Dudelange)
25.04.2015
Go By Brooks unplugged at Pacha Luxembourg
21.03.2015
Go By Brooks meets Harmonie Orchester Lycée Aline Mayrisch 
& Harmonie des Jeunes Prince Guillaume Differdange @ Aalt Stadthaus (Differdange)
More infos & tickets, click here.
07.03.2015
Go By Brooks unplugged @ Choco Hollerich. Support: Kevin Heinen
22.02.2015
Support for Jonathan Kluths @ Centre Culturel "Am Nëssert" (Bergem)
10.01.2015
Go By Brooks' first EP "RIVERS" Release @ T'Scheier (Aspelt)
13.12.2014
Rock the South @ Home St. Hubert (Pétange)