Go By Brooks, Golden Hour and Dreamcatcher to play at reopening of "Syrkus"
This is the first post for 2017. Happy New Year by the way :-)
We have been a bit more quiet for a little while and have been working on some new songs lately. However, it's also time to be on stage again. There are already a few exciting dates on our agenda, take a look here.
Our next performance will happen this Saturday, 28th January at Roodt-sur-Syr for the reopening of the cultural centre "Syrkus". We are also very happy that two other interesting bands will play that evening, our well-known friends from Dreamcatcher with their celtic Pop/Rock as well as a new promising group called "Golden Hour", featuring Joëlle Gelhausen, formerly known as front singer of "Angel at my Table" and Alex Engeldinger (Acoustic Message) on guitar/vocals.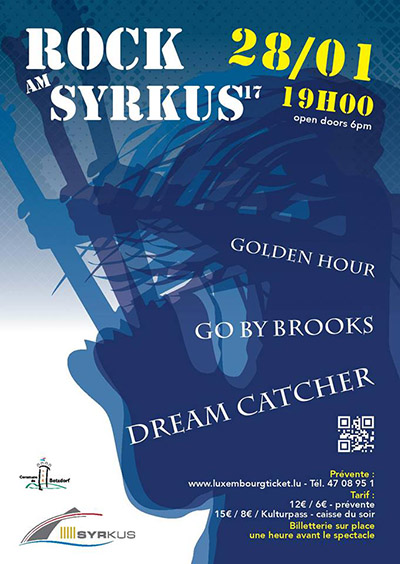 Another great event – Charity Festival "Listen to Haiti" – is coming up on 11th February. Save the date!