Go By Brooks to play on Guy Noel Band album release party
After some nice acoustic gigs and our nice experience with "Mr. Big" frontman Eric Martin on stage last Thursday (here is a little footage by Radio Diddeleng and you'll find some videos on our Facebook-page), we are looking forward to playing an electric gig again this saturday.
We will be the support act for the Guy Noel Band who will celebrate the release of their new album called "Waimes":
7th November 2015 • 8 p.m.
De gudde Wëllen (Free Entrance)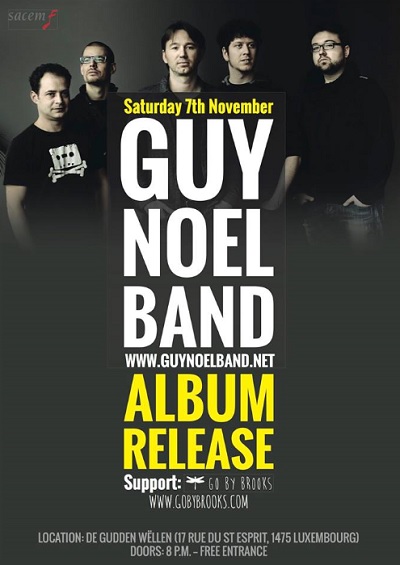 Guy Noel has often been on tour as a solo-musician. But he absolutely wanted to record an album with his band which goes more into rock. The title of the album refers to the village where they recorded the album in April: Studio La Chapelle in Waimes / Belgium.
The Guy Noel Band has released its first single "Who's gonna save you" in 2013 which reached the 1st place on iTunes' Rock Charts. The German  radio station "Big FM" chose the song for their "Battle Challenge".
Now in 2015 they have released the new single "Blowing the atmosphere". It's one of the 6 songs on the album which will be available this saturday. But it's already available for preorder on iTunes here.
Guy Noel was also a guest at RTL, Luxembourg national television, yesterday. Click here to watch.